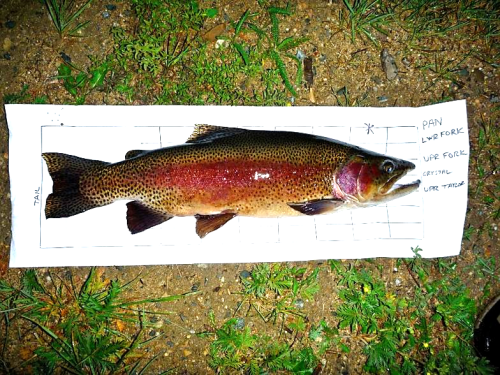 HOW IT WORKS: Each team is composed of 2 people. Each of these team members must, individually, catch and release a fish in each river. All fish must be measured and photographed in the measuring device provided by the 8 River Rodeo. The GOAL is for each of you to catch a fish in all 8 rivers over the course of two days. Sounds easy, right? Sign up now and see if you can do it!
Friday Rivers: Colorado, Roaring Fork, Frying Pan, and Crystal
Saturday Rivers: East, Taylor, Gunnison, and Spring Creek
RULES:
Enjoy Yourselves! You're fishing with friends!
Fly Fishing ONLY!
Fishing is allowed on all public waters for each river. NO PRIVATE WATER!
Teams consist of 2 people. Only 1 professional per team (a professional is anyone who has been paid to fish, i.e. guides, circuit competitors. If you sell or manufacture gear/ services ONLY you are not considered a "PRO" for this event.)
Each team member will check in at the designated staging area and obtain their measuring device that identifies them as a competitor.
Each angler must have a Colorado fishing license and obey all laws.
Anglers may fish each river as long as they want in order to catch a bigger fish. Remember, you must complete all 8 rivers to qualify for prizes.
Teams must stay together on each river, no splitting up between rivers.
Each individual on a team must catch/record their own fish before moving to the next river. Teammates MAY help each other by spotting fish, netting, marking and photographing, etc. but may NOT cast to or land a fish for the other.
Measuring is to be done with device provided for you by 8RR. Your cameras will be used to verify the reported sizes for prize winners. No photo-no prize.
You may fish the all rivers from 1/2 hour before official sunrise to 1/2 hour after official sunset.
If you don't catch in all 4 Friday rivers there will be a make-up river on Saturday. River to be posted when you check-in.
Turn your measuring device in at the designated area by 9 am on Sunday with your stats for each river. Bring your cameras with display to verify.
Must attend the "Awards & BBQ Party" Sunday to qualify for prizes.
Rivers may be changed due to low water levels or high water temperatures.
WESTERN ETIQUETTE: (Recommended)
* Be Friendly at all times, even in trying situations, -you'll be glad you did.
* Carry a plastic bag for refuse, and always try to leave a place better than you found it.
* Fish at least 100 ft from other anglers.
* Wet hands before handling fish, leaving them submerged as long as possible pre-photo.
* When able, walk the bank when changing locations – less stress on fish/river bottoms.
* Knock down the barbs on hooks or use barbless hooks.
Tips:
– Have a great time, relax, not too serious now! Make a friend or twenty.
– It's OK to hire or pay a guide's entry to be a teammate.
– Local shops may have multi-river guide trips previous to the event to sharpen you up.
– Check the schedule and rules on the website often. Check in early.
– Don't Hurry, Enjoy fishing itself, ("catching" is even better!). It's for a good cause!